Delicious, crispy and runny sunny-side up, bread roll, some fresh veggies and a cup of coffee - what a way to start your day.... Yummy :)
Unfortunately eggs only look easy to make, in reality they are actually quite difficult to get right. After several unsuccessful attempts, I have decided to permanently hand the frying pan to my hubby (he is the Fried Egg Wizard), and find another way of making my own perfect sunny-side up egg.  So, if you are a bad cook like me, don't worry, I have something especially for you....
FREE FRIED EGG CROCHET PATTERN & TUTORIAL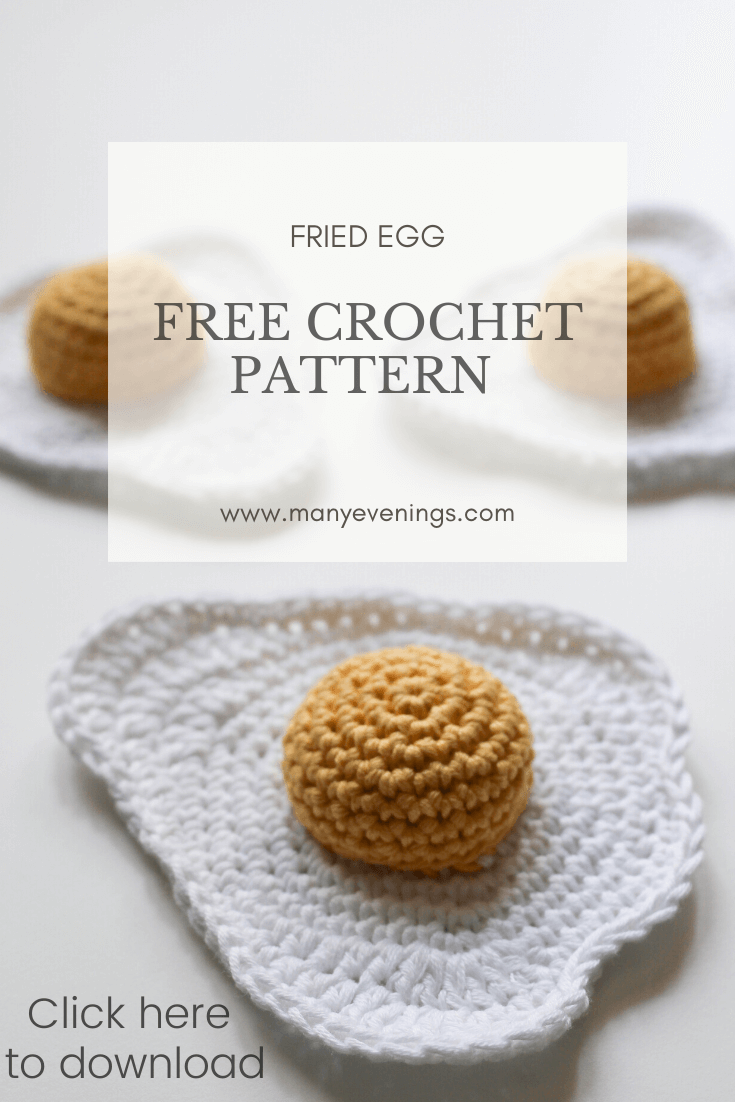 Ta-daaaaah! After months of planning, and days of designing, frogging, adjusting, redesigning,  photographing and creating, I am finally ready to share with you my very first crochet pattern. 
CLICK HERE to download a simplified one page PDF pattern, or follow the step-by-step photo tutorial below. These beginner friendly instructions will guide you through the whole process. All you need is a basic knowledge of crochet stitches and your favourite beverage (snacks are optional ;)).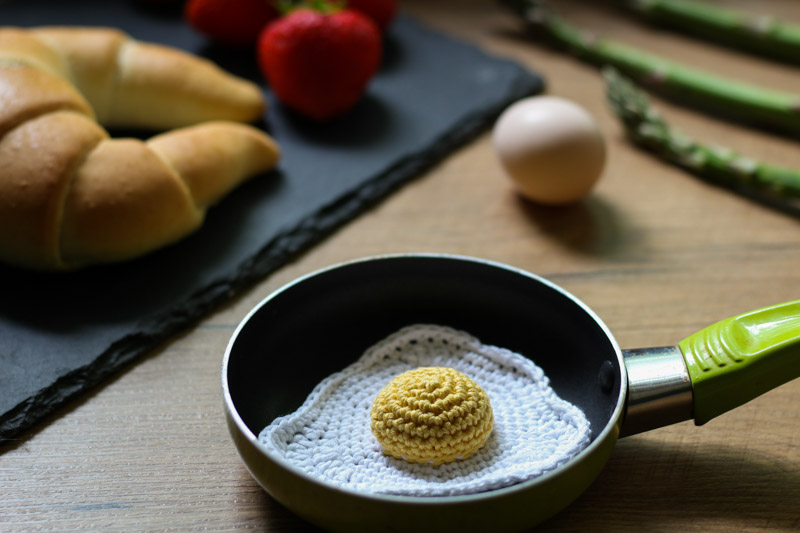 This tasty looking egg measures approximately 4 inches (in its widest part) and it takes about 1.5 hours to complete. It is made of two parts, that are sewn together. To get this extra yummy and realistic look, I have used a little bit of hollowfibre filling to stuff the yolk. The curly edges were created by uneven increasing and some slip-stitching in the final round. 
I can think of at least two ways of making a good use of this cute little egg. I personally use it as a pin cushion in my craft room.  But it will make even better job in kid's playroom.  Imagine your toddler serving you a breakfast to bed with no mess whatsoever.  Oh , happy days :) 
Materials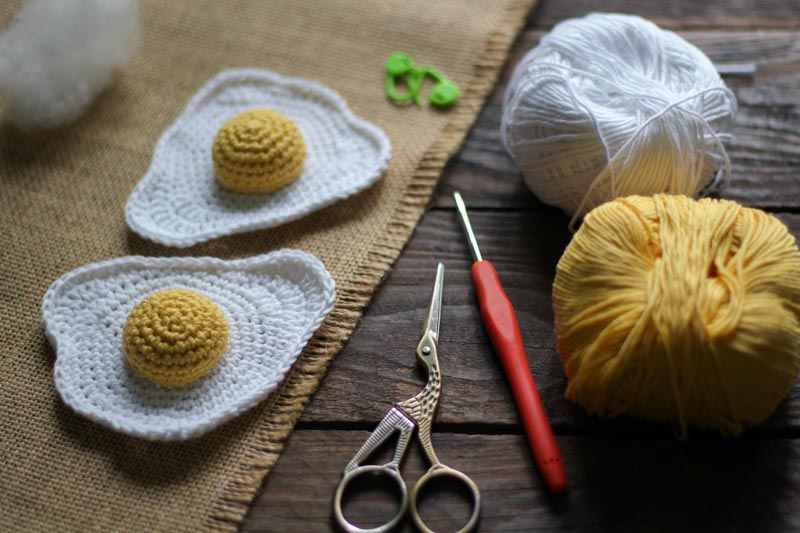 The pattern is written using DMC yarn called Natura Just Cotton. It comes in a variety of vibrant colours, and it has this nice matte finish. I have worked with shades N01 (Ibiza) and N16 (Tournesol) along with a 3 mm crochet hook. You will also need some toy stuffing, 2 stitch markers, scissors and a yarn needle.  
Crochet Fried Egg - Pattern and Tutorial 
Note: The pattern is based on crocheting in a spiral. It means that we will be working in a continuous manner, without the slip stitch at the end of each round. Instead, we will move into the next round straight away, so there is no chain at the beginning of the round either. For easy and smooth transition between rounds, always place the stitch marker in the first stitch of the round.
The pattern is written in US terms.
Gauge : 2" = 12 sts x 13 rows in sc
Abbreviations:
MR - Magic Ring
sl st - slip stitch
sc - single crochet
hdc - half double crochet
dc - double crochet
inc - single crochet increase, work two single crochet stitches in one stitch
dc inc - double crochet increase, work two double crochet stitches in one stitch
st/sts - stitch/stitches