Wattle stitch is officially my number one crochet stitch! I can't remember how I found out about it, but it was definitely love at first sight :) As it was one of the first stitches I have learnt, I was really surprised to discover that a lot of experienced crocheters have never heard of it...
I believe that such a beautiful stitch deserves more attention and I recommend it to every crochet enthusiast, especially to a beginner. Wattle stitch is super easy to learn and memorize. If you know how to crochet a chain, single crochet and double crochet stitches, you can make it too. I have prepared some basic information, together with a detailed photo tutorial, so that everyone can easily master this amazing crochet stitch. 
Why to choose wattle stitch?
There are numerous reasons why I love wattle stitch so much, but it's mainly because of the texture. This stitch creates quite dense and reversible fabric, with a nice drape. And I really like this pretty and modern look (check this beautiful and delicate blanket below). The other thing worth mentioning is how quickly it grows. Once you get the hang of it, and complete your foundation row, the project will fly off you hook. Besides, patterns based on wattle stitch make perfect projects to work on, while watching movies or relaxing. There is no need to count stitches or refer to the pattern... But be careful here, that's how you get addicted to crochet :) And last but not least, wattle stitch can be used for many different projects. I love it especially for baby blankets, but I've also made some nice rugs, placemats and even hats. You can try it as well for dishcloths, cushions, shawls, cowls and many more.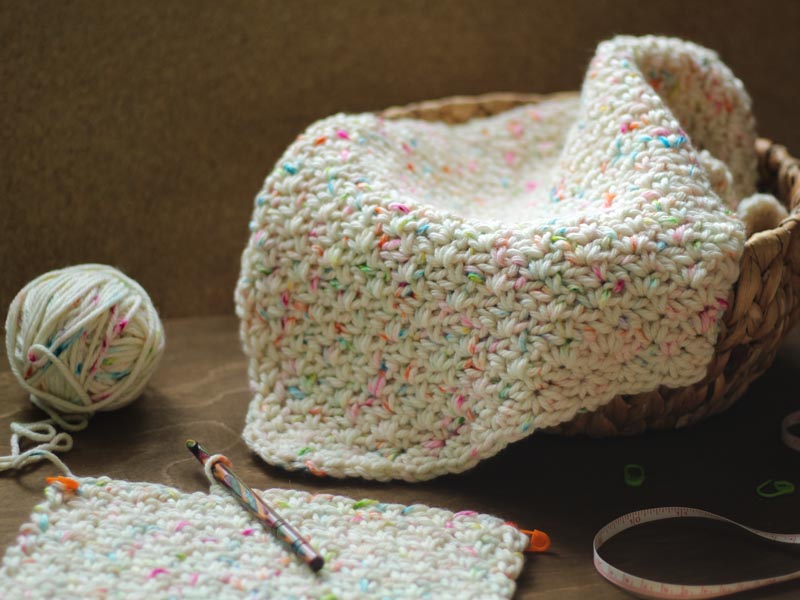 How to crochet wattle stitch?
Wattle stitch is an example of a paired stitch, where a single crochet (sc) and a double crochet (dc) are linked by a chain (ch) (US terms). The pattern starts with a foundation chain in multiples of 3. And the first group of stitches is worked into the 3rd chain from the hook. So, it goes like this;  *(1 sc, ch 1, 1 dc), skip two chains* and repeat between ** until you have 3 chains left. Skip 2 chains and work sc into the last one. That's row 1 done. After setting up the foundation, each row is then started with ch 1, and each group is worked into the chain space from the previous row. To finish row, simply make sc into the turning chain.
I told you it was easy :) For visual learners I have made some nice photos matching the above description.  
And here are just few important things to remember:
WATTLE STITCH - BEGINNERS GUIDE
Beautiful textured and reversible crochet stitch
One-row repeat pattern
Each group is made of 1 sc , ch 1, 1 dc (US terms) worked into the same chain/chain space
Start your project with a chain in multiples of 3
Start each row (except row 1) with a ch 1 
Finish each row with sc worked into the turning chain
Keep your last sc and ch 1 relatively loose (helps with the straight edges)
At the end of the row double check that you have the correct number of groups of stitches
At the end of the row make sure that you don't miss working into the turning chain